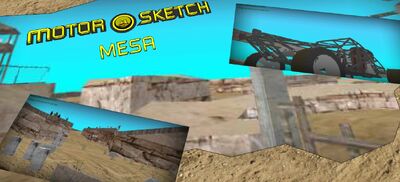 Description:
Edit
Fast. Fun. Mayhem; on a mesa! This is easily the largest driving game ever made using SketchyPhysics, with gameplay across two huge, textured mesas! Fly over jumps using the unique boost, with a stable vehicle and a custom camera rig that lets you view the action from any angle.
About the project
Edit
A one-man effort, this has taken around three months to build, from the earliest version of the vehicle, through level design and construction. It is the first SketchyPhysics game with a rotary camera, and also pioneers boost effects, on-screen effects, and sheer scale vs. stability. It took a lot of optimization to get it working at a playable speed, including techniques no one else has used. This allowed me to keep the textures turned on, even though this is the most complex course ever created for a SketchyPhysics vehicle.
The buggy
Edit
Textured, with flame effects and a rotary camera, along with the normal suspension, four-wheel drive, and reverse. The buggy is truly unique, perfectly suited to the design of the track; boost allows you to soar over jumps, while you turn to see the view. It also includes mid-air, thruster based control; you can pitch and yaw using the normal steering controls.
The track
Edit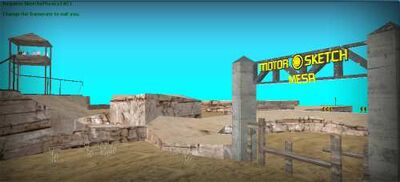 The track itself is huge, consisting totally of custom made terrain, laid out as a playable level. Structures, spectators, and objects scatter the mesas, with a mixture of both full custom items, and both edited and original Google components.
Everything is optimized for SketchyPhysics, however only what you drive on is used by the physics engine. This means a good 2/3 of what you see can't actually be impacted. It does not, however, have any effect on the actual gameplay. There are two versions of this SketchyPhysics game: the first one is controlled using the keyboard, the second one was developed for use with a joypad.
Community content is available under
CC-BY-SA
unless otherwise noted.